LAUNDRY SERVICE ACCOUNTING
From now on you have with ENIO ID token or the ENIO WashAPP and the ENIO ETZ System exactly the accounting system that you need in your Property management need. You decide for yourself which payment methods you accept and how your billing should be allocated to objects. Our central, multi-client capable platform always offers the full overview and control.
The sophisticated identification system supports your customers and complies with data protection regulations. In addition, you can offer your customers the convenience that is expected today: via the platform, the Device status (free - busy - fault). In the event of a fault, we can optionally carry out the desired action automatically. An optional WLAN hotspot ensures access to the internet even in basement rooms.
The ETZ-V8 payment terminal series with the ETZ platform form a billing system for laundry rooms. The identification and NFC payment of the ETZ-V8 work contact-free. Consumers, such as washing machines and dryers, are connected to the ENIO payment system via the ETZ terminal (Internet platform ETZ). Customers are identified via RFID cards or use a smartphone with the ENIO WashApp.
Click here to go to the ETZweb laundry online portal. You can log in or create a new user account.
PAYMENT AND SETTLEMENT SYSTEMS
Annual settlement for property management companies

Accounts for customers (tenants) in which account charging by the customer (Internet) is possible 

Accounts as a "prepaid card" system

Direct payment also possible for non-registered customers

Integrated in the online platform 
Payment via a prepaid account

Identification via cards or tokens

Identification and payment via smartphone using WashApp 

flexible pricing possible

no cash in the vending machines: no incentive for vandalism

object-oriented central accounting of all laundry rooms

Direct payments via NFC bank cards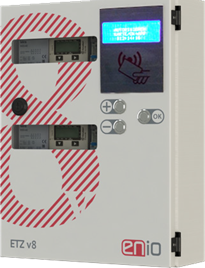 We have aroused your interest in our products and services or you have questions about them? Don't hesitate to contact us and our professionals will get back to you as soon as possible!